Wuff Da Kennel is a small private kennel. We are located in the country with birds singing, fresh air, peace and quiet. Your dog will enjoy the personal and individual care at Wuff Da Kennel, whether it's for one day or night, a week, a month or longer as we treat and care for each dog as one of our own. The well being and safety of your pet is our main priority.
Boarding Rates
Daily rates per dog
All boarding fees includes playtime 2-4 times/day and FREE TREATS. Please notify us if your dog has any allergies.
Please Note : MN STATE TAX of 7.375% will be applied to all boarding prices
Single dog $44/day per dog
Additional dog sharing kennel $20/day per dog
Daycare (no overnight)$30 per dog
Dogs that require medication will be charged an additional $3 per day.
Dogs that require training pads will be charged an additional $5 per day.
Please respect our hours, as we are busy taking care of dogs. Thank You.
Check in & Check Out
In order to create the most calm and peaceful environment for your dogs we have chosen the following hours for you to check your dogs in and out. Please respect our hours as we are busy taking care of your pets.
Drop-off day counts as first day of dog boarding. Any checkout before 11am (standard time or by appointment) will not be charged for that day.
All week (Monday – Sunday)
Check In 8am – 10am & 4pm – 6pm
Check Out 8am – 10am & 4pm – 6pm
Age
All dogs must be 12 weeks of age or older
*Dogs less than 1 year old must have a fecal sample
Vaccinations
An up-to-date copy of the dog's vaccination records must be presented to us 24 hours prior to your dog's check in time before boarding/training will be allowed.
We require written proof of vaccination for:
Rabies
Distemper/Parvo
Bordatella (kennel cough)
* Please note that many veterinarians administer the Bordatella vaccination only by request.
We also require your dog be on a flea & tick medication plus Heartworm medication
or proof that your dog has been wormed.
* Dogs less than 1 year old must have a fecal sample.
Vaccinations must be by a licensed veterinarian and must be current 24 hours before the pet arrives.
Accommodations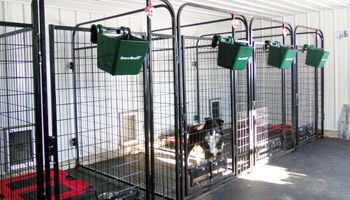 We have K9 kennel systems, with food and water dishes in a swivel bowl system, Kennels and dishes are thoroughly cleaned daily and kennels spot cleaned as necessary. Your pet has an insulated pet door for your pet to take a walk outside in our safe and secure K9 kennel. Each outdoor kennel has K9 corrugated metal roof tops to insure your pet is out of the weather. The outside perimeter of the outside kennels have anti digging panels preventing your dog to try to dig out or other critters to get in. We also have a larger yard for your dog to play and exercise in. During hot summer months we will provide air condition for your pet and during our cold winter months we will provide heating.
Music
We will play music for your dog now and then, soothing and calming music.
Elderly Pet Guests
Please visit with us to discuss any special needs.
Thunderphobia
For dogs with thunderphobia, we can offer a Thunder shirt, and music specifically created to soothe and calm dogs with fear of thunder.
* Please note: Although the Thunder shirt and Thunderphobia Calming Music is supposed to ease your dog's fear, I have experienced it does not work on all dogs. If your dog has severe Thunderphobia please let us know so we can take precautions to ensure the safety and wellness of your pet during a thunderstorm.
Boarding Cats
Our services aren't just for the dogs, feline friends are welcome too! If you are interested in boarding your cat with us, please call or contact us to discuss how we can best accommodate your pet.
Terms & Conditions
Please call or contact us to make a boarding reservation.
Reservations
Reservations are required, and please book well in advance, especially for holidays. We may be able to accommodate last minute reservations for previously registered dogs.
Deposits
We kindly ask for a 50% deposit of the total boarding costs at check-in. The remainder of the costs will be applied to your bill at check out. We accept cash, check, and credit card.
A 30% non-refundable deposit is required for reservations of 7 days or more.
Holidays
Single dog $50 non-refundable deposit ($8 holiday fee per kennel)
For reservations during holidays, we require a $50 non-refundable deposit at the time of reservation which will be applied to your bill at check out. This deposit only applies to the following holidays:
New Year's Day
Easter
Memorial Day
Independence Day (4th of July)
Labor Day
Thanksgiving
Christmas
Please call or contact us to make a boarding reservation.
Cancellations
To cancel a reservation of 1-6 days, we require a 48 hour notice prior to arrival date or a $25 cancellation fee will be applied.
Wuff Da Kennel reserves the right to offer refunds and waive fees at their discretion.
Intact males / Females in Heat
At this time, we do not accept female dogs in heat at time of boarding.
We require an additional $8 charge, per day, to board an adult intact male or a female dog that comes into heat during her stay with us.
Regardless of gender or whether your dog is fixed or not, this additional charge also applies to any dogs that mark or show signs of marking during their stay.
Please make sure your dog is on a leash or crated when checking in or checking out.
Aggressive Dogs
We can not accept aggressive dogs for boarding as we have to enter your dog's kennel and handle your dog while your dog is staying at Wuff Da Kennel. We may accept dogs with aggressive behavior in training. Please visit our training page for more information or give us a call.
We reserve the right to refuse any pet we feel may not be suitable to stay in our environment.
Please fill out our registration form and pet information form which includes an Owner's Contract, Medication Administer Disclaimer, and a Hold Harmless Waiver.
Screening
Most dogs do well being in a boarding facility even those who have not been boarded before or very much. However, some dogs may suffer from anxiety separation. If you are not sure whether your dog will do well being boarded we recommend you schedule an appointment to visit Wuff Da Kennel with your dog prior to your Check In Time in order to evaluate how your dog may cope with a boarding situation. We recommend you let your dog stay for 1 – 2 days. This will give us an idea if your dog will need medication while staying at Wuff Da Kennel or seek another option for your dog.
Emergency Vet Visit
If your pet has a serious illness or health issue and must be brought to a veterinarian, we charge a $100 service fee to bring in your pet.
Medication & Special Needs
Dogs that require medication will be charged an additional $3 per day.
Dogs that require training pads will be charged an additional $5 per day.
Please visit with us to discuss your pet's special needs before their stay.
For more information about our policies, please read our New Client Registration Form or contact us by phone or email. We will be happy to answer any questions you may have.
What To Bring
In order for your dog's diet not to become upset during his/her stay with Wuff Da Kennel, we recommend that you bring the dog food your dog is used to eat. If you do not bring food, or your dog's food runs out, we will feed your dog at a $3.00 charge per dog per day.
Please make sure your dog has an ID tag on their snap-on collar or charges of $ 5.00 will apply per dog.
There is no limit on the number of boarding days your dog(s) can stay at Wuff Da Kennel. Your pet is welcome for one day, a week, a month, or for as long as you want.
We look forward to visiting with you and your dog.
If you have any further questions, please feel free to call or contact us for more information.