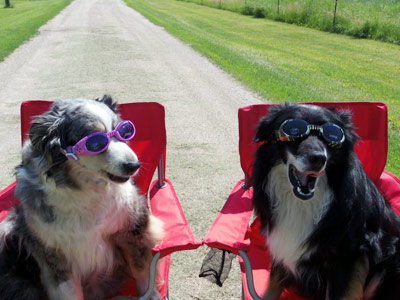 Wuff Da Kennel is located in the countryside of the Northwestern Minnesota. My husband and I love all animals and the outdoors and we have currently horses, Aussies, and cats.
I have been involved in dogs for more than 30 years, I have raised gun dogs, trialed gun dogs, trained and boarded dogs of all breeds. I have worked with a lot of dogs with people issues, and worked with a lot of people with dog issues. I am also a horse trainer and have been working/handling horses for many years. Feel free to visit our horse training website.
I have a deep interest in dog behavior and have studied canine, dingo, and wolf behavior. I have attended dog training courses and became a certified dog trainer. I have a real hands-on animal caretaking experience, and hands-on training experience. I have enjoyed working with all kinds of dogs and their owners during the years and I would love to board, train, and work with your dog too.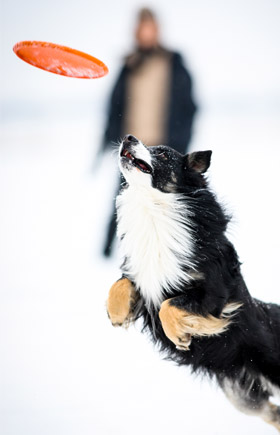 Photograph courtesy of Cory Erickson
Your Dog Away From Home – Boarding & Training
We understand how stressful it can be for your pet to be away from home in a new environment and we will do our best to make your pet feel better about his/her new situation while being boarded at Wuff Da Kennel. Lots of frequent human contact is important. We will care for each dog's individual needs and monitoring your dog's well being and safety is our priority. We also understand that it can be just as stressful for you, the owner, to have your dog boarded. Therefore, we encourage you to give us a call anytime or send us an email to ask about your pet's well being and we will be more than happy to let you know how your pet is doing. If we do not get back to you right away, please understand that we may be busy, caring for your pet, and doing chores. We will get back to you as soon as possible.
Music
I also have a musical education and am a rythmic educator. I use music when working with people and animals. A rhythmic educator is similar to a music teacher. The big difference is that we use the music as a tool to develop an awareness of all our senses and movements and vice versa we use movements to create music. Our modern society today can be hectic and sometimes we forget to slow down and pay attention to the little things. If we wish to communicate better with animals, we need to develop a more sensitive attitude and feel for them. The People Clinic will help you develop this feel. For more information please check out our website on our Individual Training page, or give us a call. We'll be happy to answer any questions you may have. Also visit our horse training website to learn more about our previous work.
If you think Wuff Da Kennel may be the right place for you to board your dog, or have your dog trained please feel free to give us a call. We look forward to visiting with you and your dog.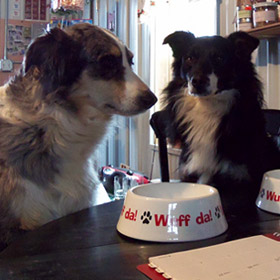 Pet Supplies – Gift Items
We offer a variety of pet supplies including but not limited to: US made rawhide bones, treats, flea & tick products, grooming products, and more . We also carry Scandinavian gift items , Wuff Da Pet Bowls & UFF DA Mugs, and more. We are not a store and do not have normal store hours but please feel free to contact us for more information about our products. Visiting is by appointment only.
Meet THE STAFF
Wuff Da Kennel's little helpers are Thor (male Aussie) and Jade (Aussie female). The dogs help us with chores around the farm and they are also very good companions for pet guests who are a little intimidated by being in a new environment. Thor and Jade are very outgoing, friendly dogs.
We look forward to visiting with you and your dog.
If you have any further questions, please feel free to call or contact us for more information.